Productivity and Connectivity Made Easy
AFS Pro 1200
The AFS Pro 1200 is the primary display on the Magnum™ , Steiger® and Optum® series tractors. The large 12-inch display features an easily customized touch-screen with Bluetooth® capabilities, superior HD visibility, day or night, and a familiar Android-based interface is just like using a smartphone or tablet.
Take Control and Tailor Your Operation
Seven nameable run screens on a single monitor allow you to fine-tune options such as remote valve timers and flow control, auto PTO, engine speed settings, the wheel slip alarm, calibrations and implement settings, and other key machine functions.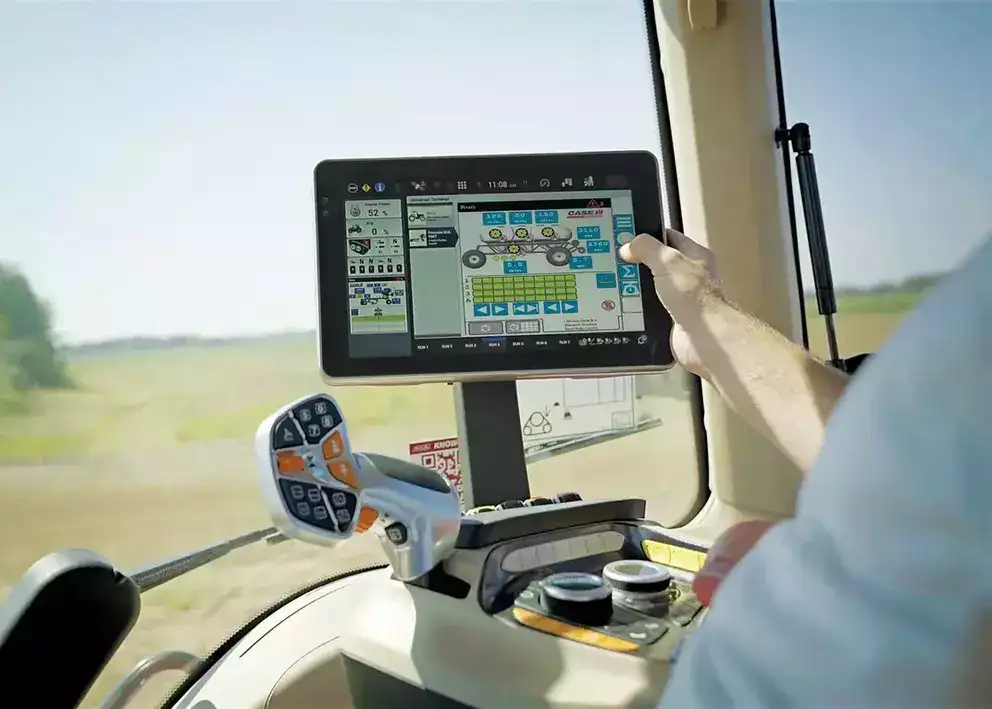 One Display, Endless Possibilities
The AFS Pro 1200 maximizes control and automation in the cab. With just a few touches, you can view and fine-tune options, calibrations and implement settings, as well as other key machine functions.
Configure your AFS Vision Pro operating system to your choosing, and tailor the tractor settings to your operating preferences.
Four camera inputs are available on the back of the display, along with the standard front and back facing cameras that are integrated in the equipment from the factory.
The slim design cuts down on the blind spot created by the display, making it easy to see around you and reduces the amount of clutter in the cab.
Remote Capabilities
Allow a farm manager or dealer to view exactly what an operator is seeing on the AFS Pro 1200 display in the cab.

Remote service tool allows dealers to remotely identify maintenance and service needs and proactively determine what parts may be needed without ever needing to make a trip to the field.

Over the air updates allows for dealers to push wireless updates to operating firmware
A Single Control Center to Meet Your Needs
AFS Pro 700
The AFS Pro 700 display is factory-installed to save trouble and time during critical points in seasons. This single, customizable and easy-to-read display can be used with Case IH equipment and implements to control, monitor and manage key functions with the ability to record important information.
Record important data and maps to use for future management decisions.
Operates six run screens that allow producers to configure what they want to monitor and/or control.
Monitor any ISOBUS-compliant Case IH or competitive implement data/functions.
Full-Color, Integrated Touchscreen
The AFS Pro 700 features a 10.4-inch, color, touch-screen display — designed for easy reading in daylight and equipped with adjustments for nighttime visibility. It also comes with three video inputs to monitor implements and grain tank level. In addition to six customizable run screens, the AFS Pro 700 features an ISOBUS virtual terminal. This provides the ability to communicate with implement ISOBUS controllers that are compatible to further simplify our Case IH AFS offering.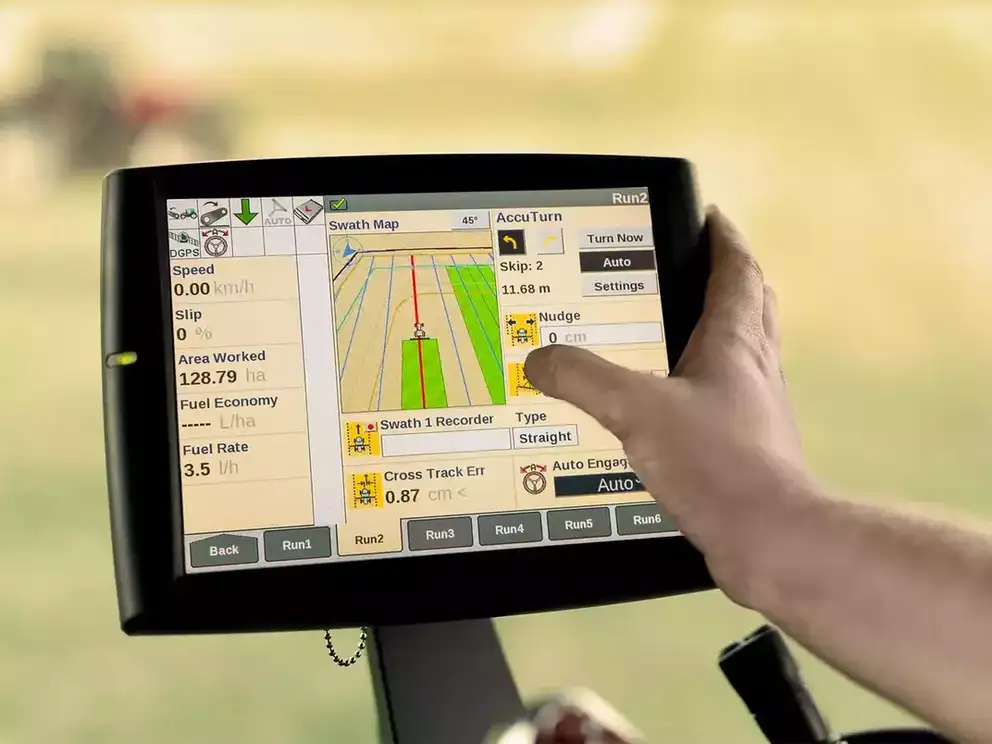 Seamless Integration Across Platforms
The AFS Pro 700 display is offered with new Steiger® and Magnum™ series tractors, Axial-Flow® combines, Early Riser® planters, Module Express™ and Cotton Express® cotton pickers, Patriot® series sprayers, Titan™ series floaters and Precision Air™ carts.

It is also backward-compatible with any equipment previously fitted with AFS Pro 200 or AFS Pro 600 displays, as well as a wide variety of non-Case IH ISO 11783 VT implements.

Control Key Vehicle Functions and Run AFS Applications With Ease

A single display provides a wealth of functionality. From your seat, with just a few touches, you can view up to six nameable run screens on a single monitor to fine-tune options such as remote valve timers and flow control, auto PTO, engine speed settings, the wheel slip alarm, calibrations and implement settings, as well as other key machine functions.

AFS Pro 700 provides a single-point interface for precision farming and machine control. The AFS Pro 700 display can be used with Case IH tractors, combines, sprayers, balers, planters, seeders, combination applicators and tillage to control and monitor key functions and track important information. AFS products such as AccuGuide™ autoguidance, AFS AccuTurn™, AccuGuide All-Makes, RowGuide™ guidance, AFS AccuControl, Accu-Stat and ISO Task Controller utilize the AFS Pro 700 display.

;