AXIAL-FLOW 150 SERIES
Designed for productivity
Everything about the Axial-Flow 150 Series is about greater productivity. And not one minute will be wasted in servicing, with easy access to service points. On top of that, Residue management quickly and easily switches between spreading and windrowing, and ensures the even spreading ideal for modern farming practices.
Built for our customers
Axial-Flow 150 Series
Case IH engineers understand that, whilst getting grain in the barn is the key to maximising income, combine running costs are the farmers' highest expense, and that covering the ground/fields quickly means nothing if it comes at the expense of excessive fuel and maintenance costs and increased grain losses. At the heart of Axial-Flow 150 Series combines are engine and rotor refinements that allow the operator to extract as much power as possible from every last drop of diesel while ensuring long-lasting reliability of every component. That is proof of how Case IH is constantly seeking to reduce the impact of its equipment both on your wallet and on the environment.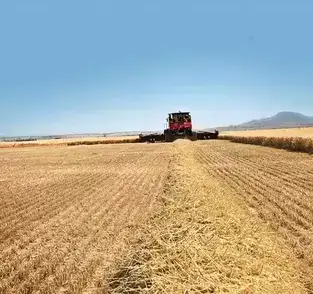 Uncomplicated Drivelines
Case IH is known for using very few and very practically placed drivelines, so that access remains easy to all service points.
The drives for the whole combine are powered from a central gearbox mounted directly to the engine for maximum efficiency. Indeed, Axial-Flow is unique in that all the principal power transmission is achieved without the use of belts, avoiding the problems associated with slip, wear, maintenance and replacement.
Grain Handling
More in the tank, more in the bank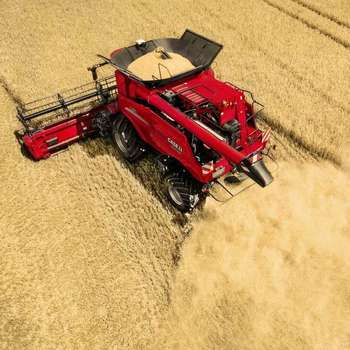 Easy Maintenance Access
When it is necessary to enter the grain tank for servicing, maintenance or cleaning, Case IH engineers have made the task safer and simpler. A ladder makes it easier to gain full access when necessary. No tools are required to extend or retract the standard grain tank extensions. Axial-Flow combines are designed to ensure you spend more time in the field, and less time setting up and servicing.
Header and combine: perfectly matched
Feeding System
Axial-Flow combines and Case IH headers are the perfect match to maximise output potential. High grain quality and smooth harvesting under every condition – that is what the Axial-Flow is built for.
85 mm lift cylinders - allowing 4,000 kg lift capacity
High-strength elevators to easily handle the largest headers
Excellent ability to pick up laid crop and minimise losses
Minimal maintenance means low total cost of ownership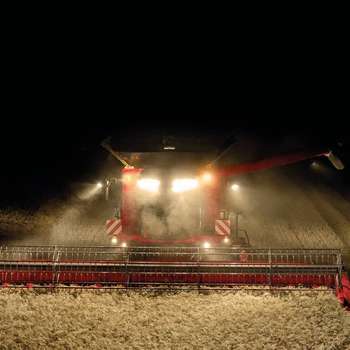 Feeder Enhancements
The 6150 and 7150 combines easily manage 10.7 m headers when fitted with the 85mm lift cylinder option. Benefit from a lift capacity of up to 4,000kg.
Single rotor technology
Threshing & Separating
At the heart of every Case IH combine is the rotor. It has been developed to meet the most different harvesting conditions, all around the world. Introduced in 1977, the first Axial-Flow combines stood out from the traditional straw walker design, in that threshing and separation were now performed by a rotor. At that time, the new rotary design was the first of its kind to be mass-produced and represented a giant step forward for farmers, with increased capacity translating to a significant boost in productivity. But while the principle has remained unchanged, with each range development Case IH engineers have utilised the very latest technology available to meet future farming needs.
Axial-Flow 150 Series combines benefit from that same forward thinking, and incorporate some of the very latest concepts not only in threshing and separation, but also in areas from cleaning to unloading, from engine to transmission technology. The end result is a combine range built not just to meet today's farming challenges – but to take on tomorrow's too.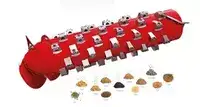 The Axial-Flow Advantages
Gentle but thorough threshing protects crop quality bonuses
One rotor threshes and separates – fewer moving parts to worry about
Top quality grain – unbruised and undamaged – strengthens your bargaining power when selling
On-the-go rotor speed and concave opening adjustment: increased daily performance and revenue
Cleaning System and Residue Management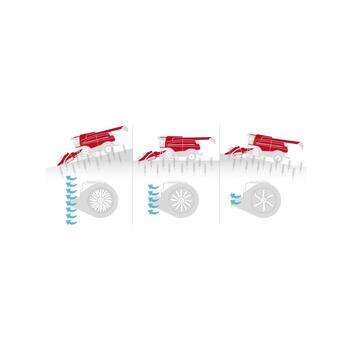 Auto Cleaning Fan Speed Adjustment
The optional cleaning fan speed adjustment can compensate up and downhill up to 11° increasing or reducing fan rpm based on the slope. Cleaning efficiency is guaranteed minimizing losses.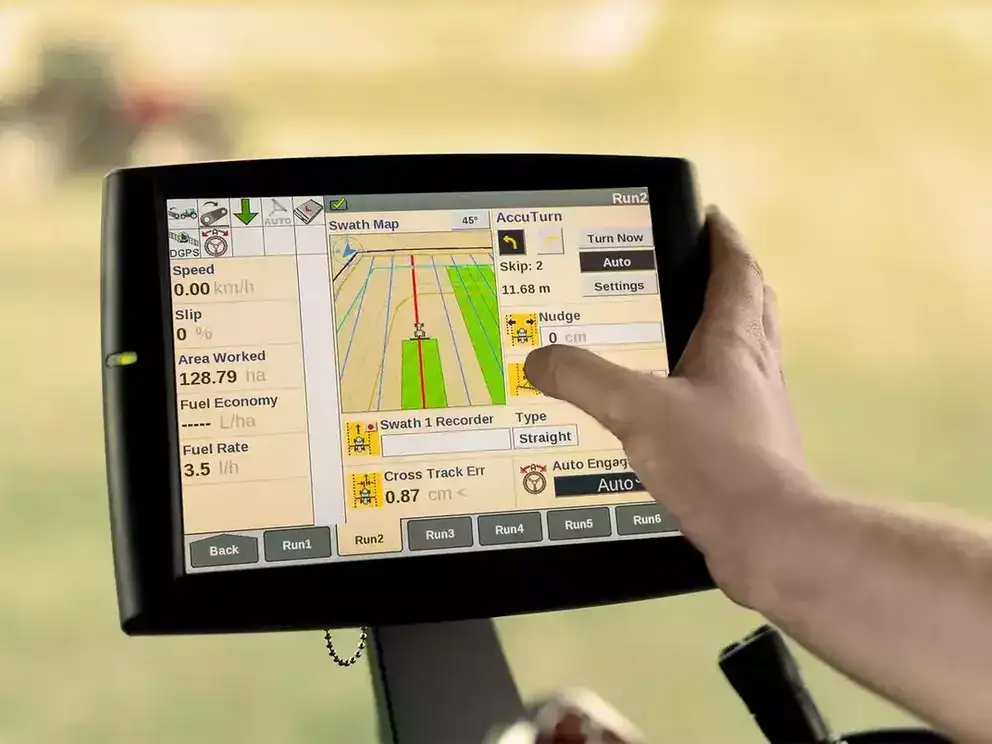 AFS AccuGuide
In conjunction with AFS AccuGuide, the mechanical Row Guidance ensures the combine follows the rows in corn crops. It takes the stress out of harvesting at high forward speeds and when using wide headers, thus reducing operator fatigue and boosting productivity, to exploit the combine's full performance capabilities.
Far more than just fuel savings
Optimized machine usage
Improved comfort by reducing operator demands
Savings on fuel and labor costs
Less time spent in the field
Reduced skips and overlaps improve field efficiency and guarantee an even spread of residue, improving soil health
Perfect work in poor visibility conditions without compromise
Straight tracks and windrows; comfortable for high speed baling
Year-on-year repeatability driving on the same track resulting in minimal compacted field area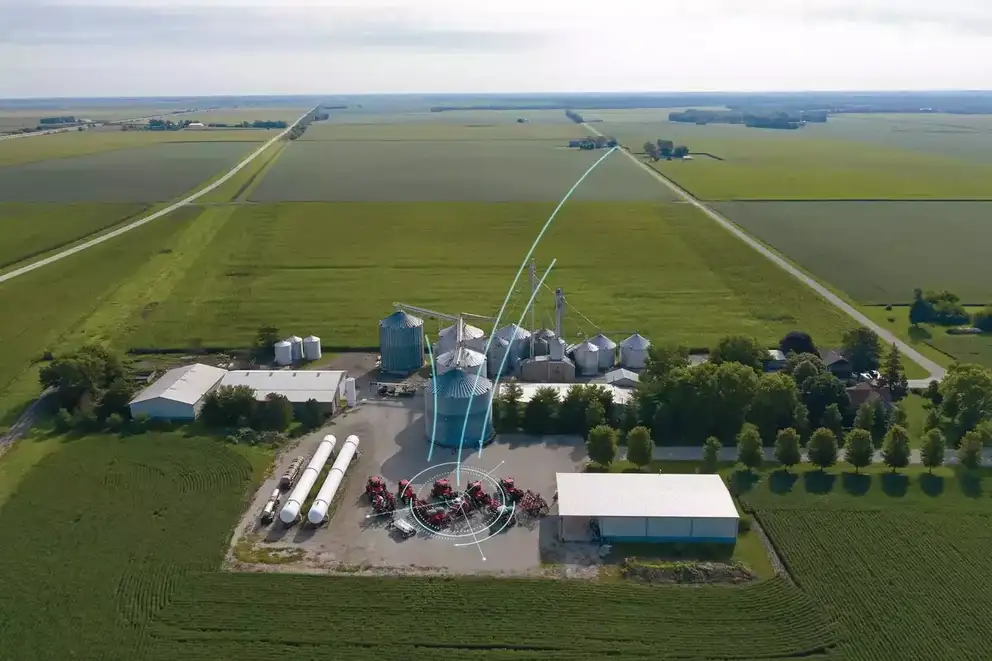 Manage your farm, fleet and data remotely
AFS Connect
AFS Connect lets you remotely monitor and manage your farm, fleet and data, allowing you to optimize your performance, productivity and flexibility. Efficiently visualize your equipment with little to no idle time. With all the information at your fingertips, you can successfully manage your operations anytime, anywhere!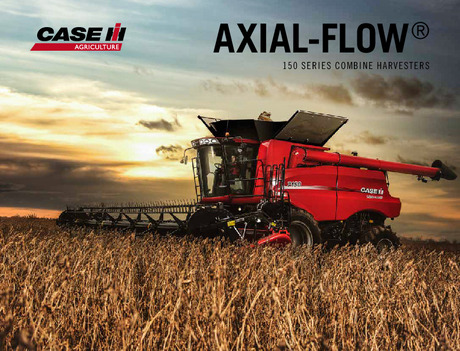 Axial-Flow 150 Series
6.11MB

;